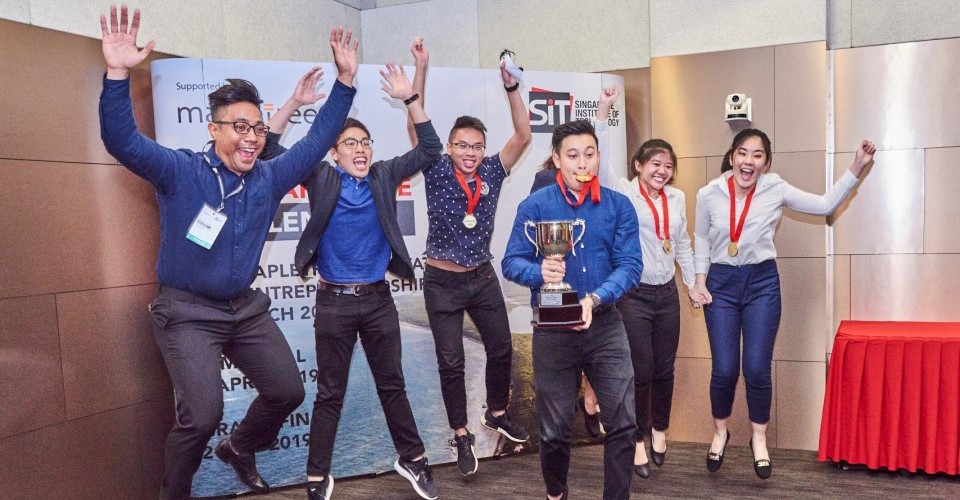 The Grand Final - due to extenuating circumstances -- has been moved from a live event to a vodcast submission.
An awards ceremony will follow at a point in the future; keep your eyes on this page for more information.
The Grand Final, which allows six teams to present their respective ideas on entrepreneurship and innovation to a panel of judges, has been changed to a vodcast submission. The six Challenger teams will
Receive useful tips while being mentored by leaders of industry and the university
Submit their innovation pitch via a professionally prepared 10-12 minute vodcast
Share their innovation ideas on an issue of sustainable innovation
Put themselves and their project teammates in a position to win the following prizes:
Cash Prizes to be Won
Gold Award - A cash prize of $5,000
Silver Award - A cash prize of $3,000
Bronze Award - A cash prize of $2,000

Consolation Prizes - A cash prize of $1,000 is awarded for each remaining team.

Semi-Finalists not selected for The Grand Final will receive a cash prize of $500 for creating an infographic poster that represents the features and functions of their sustainable innovation. These posters will be displayed at The Mapletree Challenge Grand Final.
Selection Process
The six Grand Final Challengers will present their sustainable innovations in a professionally prepared vodcast to be submitted by Monday, 20 July 2020, at 5 pm.
Each presentation will be reviewed by the panel of three judges, representing SIT, the industry, and Mapletree Investments.
Mentoring
Each Grand Final Challenger team and individual will be assigned a mentor from industry, arranged by The Organizing Committee. Meeting with one's mentor is required before The Grand Final.
Each Grand Final Challenger should also schedule an appointment at the Communication Helpdesk before The Grand Final.
The number and length of mentoring sessions should be arranged between the mentor and the Challenger. Helpdesk sessions will be limited to 1 hour.
An announcement of the three winning teams will be made on Thursday, 30 July 2020 by way of an email to the student Challengers and an announcement on the SIT Facebook page. Stay tuned!
Mentors
Ms Grace Kang
Managing Partner
Greenview

Grace Kang is the managing partner of Greenview, a sustainability consulting and research firm providing hospitality organizations with their strategy, programs, and reporting, and hospitality industry with industry insight, trends, and benchmarks. She oversees Greenview's Asia operations as well as co-develops the company's business plan and growth strategy.

Professor Jeff Obbard
Visiting Professor
Cranfield University

Dr. Jeff Obbard, formerly of the National University of Singapore, is Visiting Professor (Singapore) for the School of Water, Energy & Environment at Cranfield University in the UK. He is also a consultant on environmental sustainability projects in Singapore and Southeast Asia, acting on behalf of the United Nations, the Singapore government and many other institutions.

Mr. Jerry Chen
Managing Director
Express Melody

Mr. Jerry Chen is the Managing Director of Express Melody. He is active in inspiring youth entrepreneurs who choose to embark on the amazing journey of entrepreneurship. His own company has gotten investment to grow in Southeast Asia and has also been acquired by the leading international background music company. Jerry continues his post-acquisition journey to lead the company to the next level beyond soundscape.

Mr. Nick Jarvis Tan
CEO
Xcelerate Training and Coaching Pte Ltd

Nick Jarvis Tan is an award-winning behavioural scientist who specializes in maximizing human performance as well as fostering human connectedness in the workplace. As the principal trainer and facilitator of a global talent development firm that serves leading businesses, government institutions, and non-profit organizations, he helps clients grow their people and make lasting improvements to their business and team performance. A sought-after speaker by top brands, Nick unites best practices with the latest research in the fields of business, psychology, and behavioural and cognitive sciences to equip his clients with the skills and knowledge needed to achieve quantum breakthroughs and performances. His transformative signature programs include facilitating processing labs for the C-Suite level, corporate rejuvenation retreats for senior management teams, and achievement accelerators for emerging leaders.

Mr. Uantchern Loh
CEO
Black Sun Asia Pacific

Uantchern Loh is currently the CEO, Asia Pacific for Black Sun, a stakeholder communications company. He has extensive expertise in advising businesses on various aspects of sustainability, including the Environmental, Social and Governance (ESG) framework. He also consults on how innovators and entrepreneurs may engage their various stakeholders for mutual benefit and positive societal impact. Uantchern serves on advisory boards for the accounting programme at the Singapore Institute of Technology, and he is an adjunct professor of business with the Singapore University of Social Sciences. At the same time, he volunteers on the boards of three charities: Securities Investors Association (Singapore), Kidney Dialysis Foundation and Shared Services for Charities.

Professor Yaacob Ibrahim
Advisor, Office of the President
Singapore Institute of Technology

Professor Yaacob Ibrahim joined the SIT Board on 1 Jan 2019. He is currently a Professor of Engineering at the Singapore Institute of Technology (SIT) where he is also Advisor to the President of SIT. Prior to his current position, Professor Yaacob served as Minister in the Ministries of Communications and Information (2011 – 2018), Environment and Water Resources (2004 – 2011) and Community Development and Sports (2002 – 2004). Throughout the 16 years as Minister, he was also Minister-in-charge of Muslim Affairs. He started his political career as a Member of Parliament (MP) in Jalan Besar GRC on 2 January 1997. He held several political appointments before becoming a minister in 2002.

Mr Zach Wilson
Managing Director
AlfaTech & DVUCA

Zach Wilson is the Managing Director of AlfaTech and DVUCA in Singapore. He has over 15 years of experience in engineering, construction, and real estate development. Mr. Wilson specializes in clean technology, renewable energy, energy efficiency, and hi-tech projects. He is a LEED Accredited Professional, a member of CoreNet Global and the Urban Land Institute (ULI). Mr. Wilson has an MS in Civil and Environmental Engineering from Stanford University and a BS in Construction Engineering Technology from Montana State University.
Judges
Mr. Eddie Chau
Founder & Chairman
Neeuro

Eddie Chau is a serial entrepreneur; he was conferred IT Leader of the Year by SCS in 2018. Eddie formed Brandtology in 2008, and it is now the leader in business & brand online intelligence services, supporting global clients in multiple countries and languages with more than 300 professionals in 15 countries. Eddie successfully founded and incubated e-Cop in 2000; it became a market leader in Cyber-Security Industry. In 2011, Eddie then co-founded V-Key with a key objective to make all mobile applications more secure with cutting edge patented technology. In 2012, Eddie co-founded TNF Ventures with several tech-entrepreneurs and venture capitalists, to incubate early-stage technology start-ups. In 2013, Eddie also founded Neeuro to improve the performance of the human mind by using its own-developed and world-first brain computing platform "NeeuroOS". In 2014, Eddie co-founded Spini, a marketplace for sales professionals to get crucial information for sales opportunities from the crowd. Before founding Brandtology and e-Cop, Eddie held senior positions in IBM and Computer Associates, Inc. Eddie has also appeared as the investor/judge in Startup Asia Seasons 1 & 2 by Channel News Asia. Eddie Chau holds an MSc in Communication Engineering from Imperial College, London.

Ms. Heng Sue Yuan
Director, Corporate Communications
Mapletree Investments

With over 23 years of communications and marketing experience, Sue Yuan leads Mapletree Investments' Corporate Communications, in the Group's communications, branding, public relations, and corporate social responsibility initiatives. Understanding the fundamentals of business, she was one of the panel of judges for entrepreneurship competitions including the Inaugural River Hongbao Hackathon 2019 and the first Mapletree Challenge in 2019 which were supported by Mapletree.

Professor Ho Yew Kee
Associate Provost (SkillsFuture & Staff Development)
Singapore Institute of Technology

Dr. Ho Yew Kee is Professor and Associate Provost at Singapore Institute of Technology. He is an accountant by training, having obtained his Bachelor's (First Class) and Master of Economics from Monash University, Australia. He also holds a Master in Industrial Administration and a PhD from Carnegie Mellon University, USA. Professionally, Yew Kee is a Fellow CPA Australia (FCPA) and a Fellow Chartered Accountant (FCA) of Singapore. In addition, he is a Chartered Financial Analyst® (CFA) charter holder. He was previously Professor and Head of the Department of Accounting, as well as Vice Dean (Finance & Administration) and Chairman (Executive Education) at NUS Business School. He serves as a Director of UOI Ltd.
Intellectual Property (IP)
The Mapletree Challenger(s) retain/s full IP rights for the innovation entered in The Mapletree Challenge.
The Organizing Committee reserves the right to use, reproduce, publish, print and distribute images and/or descriptions of the innovations submitted for The Mapletree Challenge.
The Organizing Committee reserves the right to use, reproduce, publish, print, edit and distribute the names of any participants and photographs and videos of The Mapletree Challenge.
Other Events​