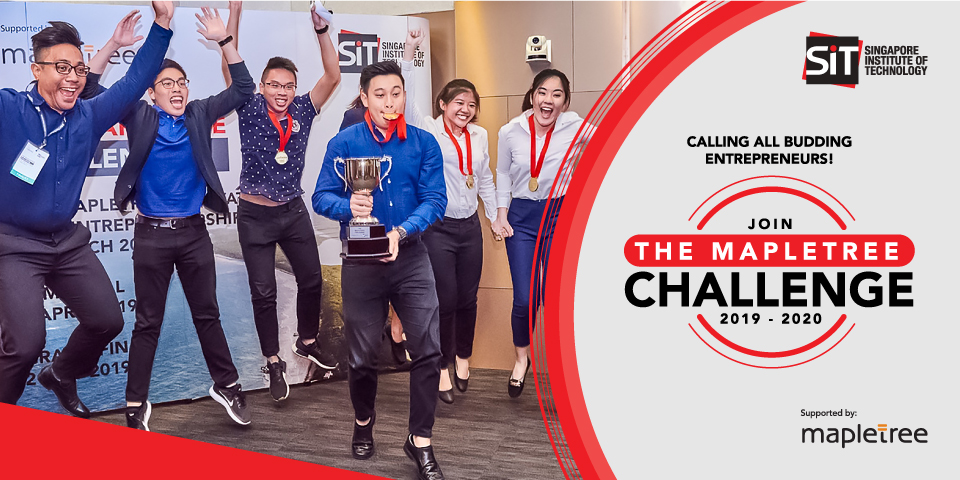 The annual Mapletree Challenge is back! This exciting learning initiative is offered to SIT students across the five academic clusters and overseas university (OU) programmes. Supported generously by Mapletree Investments Pte Ltd, The Mapletree Challenge is designed to enhance the communication, personal branding and innovation skills of SIT students. It aims to inspire students to make a difference in today's world through sustainable innovations and to equip them with the skills to present themselves and their ideas persuasively.
DUE TO COVD19, important changes were made to the schedule of The Mapletree Challenge Grand Final. See the respective webpage for those details.
The Mapletree Challenge - Timeline of Events

Through The Mapletree Innovation & Entrepreneurship Forum, students learn how successful entrepreneurs drive sustainable innovation.
The theme for 2020 is Reimagining Sustainability for Improving Our World. It will provide a great opportunity for the forum participants to sharpen their understanding of how sustainability and innovation overlap.
With a hybrid structure, this year's edition of the forum will be delivered to a group of under 50 participants at the Ho Bee Auditorium/Dover campus while being streamed live to members of the SIT community and the public via the SIT Facebook page. Small "watch parties" will be arranged for two seminar rooms on the Dover campus and one on the SIT@RP campus. Upon campus registration, each participant will be allocated to a particular venue.
The final event in this series is The Mapletree Challenge, a competition that emphasizes innovation. Individuals or teams of up to four SIT students are challenged to develop authentic design project plans relating to the sustainability of products, practices or services within their area of study. For example, they can introduce something completely novel and/or propose the modification of an existing product, service or practice.
Events
Cash Prizes to be Won
Gold Award - A cash prize of $5,000
Silver Award - A cash prize of $3,000
Bronze Award - A cash prize of $2,000

Consolation Prizes - A cash prize of $1,000 is awarded for 4th, 5th and 6th Runners-up.

Semi-Finalists not selected for The Mapletree Challenge Grand Final will receive a cash prize of $500 for creating an infographic poster that represents the features and functions of their sustainable innovation. All posters will be displayed at The Mapletree Challenge Grand Final.
2019 Winners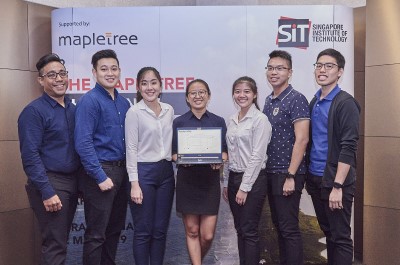 Gold Award
- Trolley Innovation.
(L to R) Abdul Rafi Abdul Rahman, Kang Xun, Joanne Chua, Lui Zhi Ting, Ang Zi Qing, Koh Thong Wu, and Tan Hong Da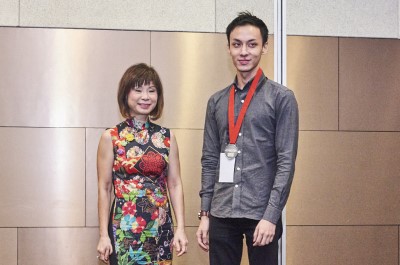 Silver Award
- A Web App for Hotel Revenue Management Forecasting Simulation.
Samuel Seah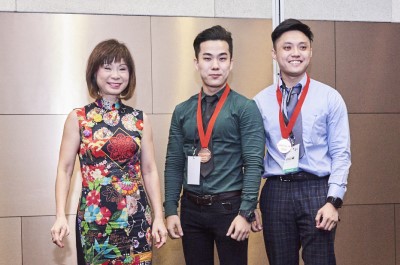 Bronze Award
- Automated Seafood Receipt Processing System.
(L to R) Woon Yong Quan Leslie, Tong Jun Hong

Consolation prizes went to Ng Wei Da Jim, Liew Kar Quan, Wang Xin, Lim Jia Xin, Chan Xinyin, Rennie Toh Qian Yu, Tan Yong Quan.
Past Events
Mr. Shamir Rahim, Founder and CEO of VersaFleet Pte Ltd, responding to a query from the audience at the Innovation and Entrepreneurship Forum.
Chester Tan from the Mechatronics Programme demonstrating his prototype of a grass cutter for steep slopes.
Team Scooter Power from SIT's Mechanical Design Engineering Programme poses with their prototype - a pedal-powered scooter.
Supported by Mapletree Investments
Mapletree Investments, a leading real estate developer, investor, capital and property manager headquartered in Singapore, is searching for students with the creative and entrepreneurial drive to generate innovations to enhance sustainability. Sustainability is understood in broad terms as relating not only to the sustainable use of physical resources but also to the rationalization of economic and social practices to ensure the continued well-being of all those affected by them, i.e. stakeholders.
Mapletree Investments is proud to be supporting The Mapletree Challenge as it is aligned to the Group's support for education and environment; two of four Corporate Social Responsibility pillars.