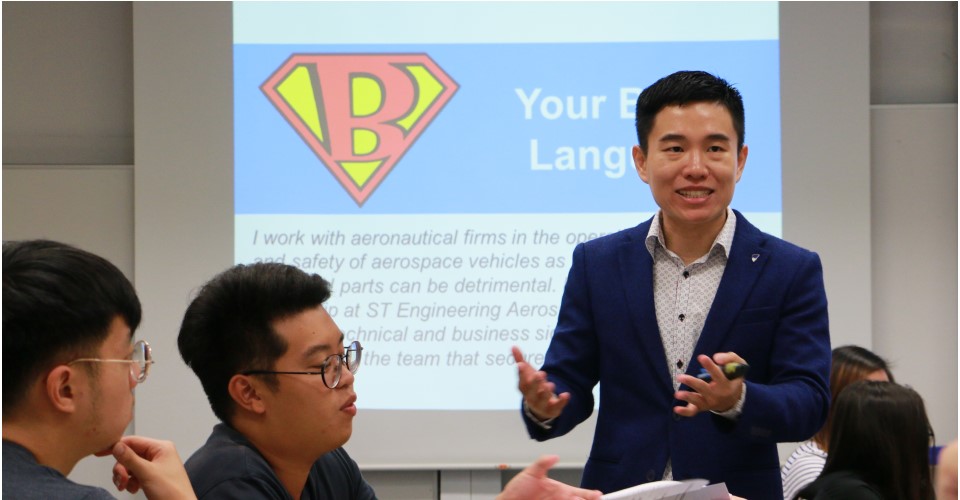 The Job Interview & Presentation Masterclasses focus on helping you refine your job interview skills and personal brand, with the workshops directed by leading corporate trainers.
Refine job interviews skills
Develop your personal brand
Produce effective digital self-presentations
Gain an industry perspective for a more competitive edge
Win attractive cash prizes & vouchers of up to $100! (for the top 5 submissions).
Vodcast Results
Round 1 - Winners
Round 2 - Winners

Accountancy

MOHAMAD RIDHWAN BIN MOHAMAD HASSAN
TAN ZHEN WEI, GAVIN

Hospitality Business

TAN JIA JUN EMIL

Telematics

SOON ZENG FU
WINFRED QUEK WEI LUN

Electrical Power Engineering

JOVAN CHEW YU QUAN
MALISSA ADILAH BINTE ABDUL AZIZ
NUR AQILAH BTE MUHAMMED HASHIM

Information and Communications Technology

GANESAN SUGANITHISELVAN
LAI WEI FANG TED
Round 1 - Runners-up
Round 2 - Runners-up

Accountancy

CHIA YI LIANG LEON
KON TENG HOW TERENCE

Hospitality Business

CLIFTON ONG JUN HAO

Telematics

GOH AI MIN
JUSTICA TAN WAN LING
NEO LI QIN
WONG LIHENG

Electrical Power Engineering

ANJELICA TANG
LIM JIAN HAO
NURMA INARAH BINTE ISMAIL

Information and Communications Technology

NUR EZZA SYAFIRA BINTI MOHAMED MAHADIR
PANG JUN RONG
THINESH S/O KANAGA RAJAN

Mechanical & Manufacturing Engineering

GWENDOLENE HAW QIN LING
Prizes
Winners
Runners-up
Participants
$100* + 350ml Bamboo Fibre Mug
Certificate of Excellence
Starbucks Card ($10 value) + 350ml Bamboo Fibre Mug
​E-Certificate of Excellence
350ml Bamboo Fibre Mug
​E-Certificate of Excellence

A separate email will be communicated to winners, runners-up and participants on the details of the prize collection.
Vodcast Submission
Instructions on submitting the Vodcast:
Click the link which corresponds to the round of your masterclass.
Click 'Choose files' and select your video. Your video filename should have your matriculation number and full name. E.g. 12345A_Ben_Tan.mp4
Enter your name and email address, then click 'Upload'.
You will be notified when your submission is successful.
Masterclass Schedule
Date
Time

Location/ Room No.

Academic Programme

No. of Trainers
Round 1, Session 1
17 Sep 2019
18:00 – 20:00
SIT@Dover
Accounting ACC2904
1
18 Sep 2019
18:00 – 20:00
SIT@Dover
Telematics TLM2011
1
19 Sep 2019
18:00 – 20:00
SIT@RP Building, LT1B
Hospitality Business BHB1802
1
Round 1, Session 2
01 Oct 2019
18:00 – 20:00
SIT@Dover
Accounting ACC2904
5
02 Oct 2019
18:00 – 20:00
SIT@Dover
Telematics TLM2011
2
03 Oct 2019
18:00 – 20:00
SIT@RP Building, LT1B, SR6A, SR6B, SR6C, SR6D
Hospitality Business BHB1802
5
Round 2, Session 1
30 Oct 2019
18:00 – 20:00
SIT@NYP Building, LT1A
Electrical Power Engineering EPE2207 & Mechanical & manufacturing Engineering MME2182
1
31 Oct 2019
18:00 – 20:00
SIT@NYP Building, LT1A
Information & Computer Technology ICT2901
1
Round 2, Session 2
13 Nov 2019
18:00 – 20:00
SIT@NYP Building, LT1A, SR6B, SR6G, SR6H
Electrical Power Engineering EPE2207 & Mechanical & manufacturing Engineering MME2182
5
14 Nov 2019
18:00 – 20:00
SIT@NYP Building, LT1A, SR6B, SR6G, SR6H
Information & Computer Technology ICT2901
5
Upcoming Events