As Singapore's university of applied learning, Singapore Institute of Technology (SIT) aims to integrate learning and industry by incorporating applied industry components into undergraduate teaching and learning, with the goal of positioning our students to be industry-ready graduates.
SIT's Dual Studies (DS) Lite Programme, which focusses on producing work-ready graduates in partnership with industry, encourages companies to engage students from the very first year of their studies. Not only does an early introduction to the companies' business and culture create a mutually beneficial relationship between the students and the companies; it also provides companies with 'green harvesting' opportunities to spot talent who could become potential employees in their companies.
The Dual Studies Lite Programme aims to support companies in achieving their talent development initiatives, which will in turn translate to higher productivity and lower training costs. In addition, the Dual Studies Lite Programme is part of a larger, integrated framework for the development of sustainable industry partnership and innovation.
SIT-conferred degree and joint degree programmes include the following components: i) Industry Induction, ii) Integrated Work Study Programme (IWSP) and iii) Capstone Project (final year) during a study tenure that ranges from 3 to 4 years, depending on the undergraduate programme. An example of a programme structure is shown below:
Why participate in Industry Induction during your break?
Early introduction to the companies' business and culture gives you a head start towards building a mutually beneficial relationship with the companies. Industry Induction is the start of your applied learning journey and it enables you to perform more confidently when you subsequently embark on the Integrated Work Study Programme (IWSP) and Capstone Project. From this programme, you stand to gain the following: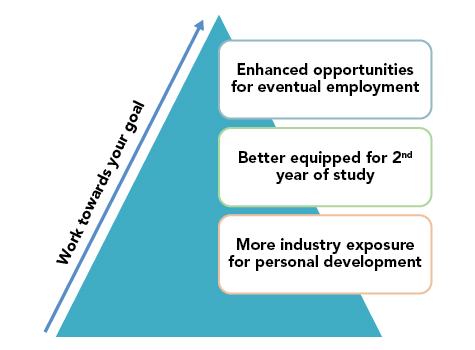 Will the Industry Induction be graded?
What would the students typically do?
Students will spend time with their companies to familiarise themselves with the companies & their culture.
They will also develop key skill sets that will enable them to perform effectively at the onset of IWSP.
In addition, they will gain a better understanding of the companies' needs in the areas of innovation & craft projects for IWSP / Capstone.
It is up to the company to pay students as they see fit. As a guide, it should not be less than S$800 per month.
How long is the Industry Induction?
The induction can last from 2 to 4 months.
What are the programmes available for students to participate in Industry Induction?