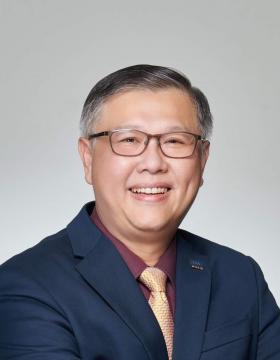 Yew Kee
HO
Associate Provost (SkillsFuture)
Cluster Director, Design and Specialized Businesses
Co-Chairperson, AccTech Centre Advisory Committee
PHD in Accounting, Carnegie Mellon University, United States
Profile

SIT Appointments

Co-Chairperson, AccTech Centre Advisory Committee

Cluster Director, Design and Specialized Businesses

Associate Provost (SkillsFuture)

Associate Provost (SkillsFuture & Staff Development)

Education

PHD in Accounting

Carnegie Mellon University

,

United States

Bachelor of Economics (First Class Honours)

Monash University

,

Australia

Master of Economics

Monash University

,

Australia

Master of Science in Industrial Administration

Carnegie Mellon University

,

United States

Achievements

Teaching Excellence Award for the NUS APEX EMBA

National Day Long Service Medal for 25 years of service

Ngee Ann Polytechnic Alumni Award for Community and Environment

Teaching Excellence Award for the NUS APEX EMBA

Vernon Zimmerman best paper award 23rd Asian-Pacific Conference on International Accounting Issues, Beijing, China

Annual Teaching Excellence Award, NUS

Teaching Excellence Award for the NUS APEX EMBA

NUS Business School Outstanding Educator Award

Service to Education Award 2009 - Silver, Ministry of Education, Singapore

Vernon Zimmerman best paper award 20th Asian-Pacific Conference on International Accounting Issues, Paris, France

NUS Annual Teaching Excellence Award

Best Educator Award for the UCLA-NUS EMBA, 2006, 2009, 2010, 2011 and 2016

Faculty Service Award in 2002 in recognition of dedication and service contributions beyond normal workload in the faculty

Outstanding Educator Award at Faculty level, National University of Singapore

Professional Memberships

Fellow Certified Practising Accountant (FCPA) of the CPA Australia

Chartered Financial Analysts (CFA), CFA Institute.

Fellow Chartered Accountant (CA) of the Institute of Singapore Chartered Accountants

Corporate Experience

Member, Council, CPA Australia (Singapore), Jan 2018

Member, Ngee Ann Polytechnic Business and Accountancy Programmes Committee, May 2017

Member, Skills Framework Development Workgroup, Singapore SkillsFuture , June 2017

Director and Chairman, Audit Committee and Human Resources Committee, St Luke Eldercare

Chairman, Investment Committee, Council of World Mission, June 2016

Member, Singapore Qualification Programme Learning and Assessment Committee – Foundation Programme (LAC-FP), January 2016

Director, and Chairman, Audit Committee, Dover Park Hospice, June 2014

Director, United Overseas Insurance Ltd, 1 June 2014

Chairman, Committee for the Review of Tuberculosis (TB) Treatment Defaulters, Ministry of Health, May 2013

Member, The Inquiry Panel, Appointment under the Legal Profession Act, Ministry of Law, April 2012

Member, Investment Advisory Committee, Peoples' Association, July 2008

Director and Chairman, Audit Committee, St Luke Hospital
Research

Current Projects

Brokers Recommendation Changes

Studies on Audit Committees

Conservatism in Accounting

Past Projects

City Harvest Church : Right Intention Went Wrong, Case Study Research Grant

Earnings Surprises, Growth Expectations and Market Efficiency, R-315-000-051-112

Earnings Management and Analysts Forecasts, R-315-000-035-112

Modelling the Accounting Standard Setting Institution in Singapore, R-315-000-013-112

Employers' Accounting for Pensions: The Case of Utilities Industry, R315-000-014-112
Publication

Journal Papers

"Do Brokers' Recommendation Changes Generate Brokerage?  Evidence from a Central Limit Order Market", Accounting & Finance, 2017, forthcoming, (Robert Brown, Howard Chan, Robert Faff)

"A Study on the Profile of Audit Committees of Listed Companies in Singapore", Study Commission by the Institute of Singapore Chartered Accountants, 2016.

Some Economics of Audit Market Reform", Australian Accounting Review, 26(3):271-283, 2016. (Tan Boon Seng)

"Towards Better Business Reporting : Integrated Reporting and Value Creation", KPMG-NUS Publication, 2015 (Ian Hong)

"Olam : Accounting for Biological Assets", Ivey Publishing, 2015. (Teo Chee Khiang and Ben Sitoh)

"Valuation of Financial Derivatives Under FRS 113 (Part 1)", Chartered Accountants, Institute of Singapore Chartered Accountants, June 2015.

"A White Paper on Derivative Valuation in the Context of FRS 113 Fair Value Measurement", 2014, Institute of Singapore Chartered Accountants.

"The Association between Earnings and Returns : A Comparative Study between the Chinese and US Stock Markets", China Accounting and Finance Review, 2014. 16(2):90-106 (Vincent Chen).

"Reported Earnings and Analyst Forecasts as Competing Sources of Information: A New Approach", Australian Journal of Management, 2012. 37(3):333-359 (with Heather Anderson, Howard Chan and Robert Faff).

"Diminishing Marginal Returns from R&D Investment: Evidence from Manufacturing Firms", Applied Economics, 2011, 45(5):611-622. (with Robert Faff, Weilin Lin and Yap Chee Meng)

"Singapore as an Accountancy Hub – A Porter's Diamond Perspective", International Journal of Business Competition and Growth, 2015, 4(1/2):44-56 (Tan Boon Seng).

Conferences

"Total Cost Management in Development of the Economy - Singapore Experience", Keynote, CMA National Management Accounting Conference, 11 to 13 July 2016, Colombo, Sri Lanka.

"Development of Integrated Reporting in Asia", Global Management Accounting Submit, 27th – 29th July 2015, Colombo, Sri Lanka.

"What will it take Sri Lanka to become an economic power house like Singapore", Keynote, Chartered Management Accountants National Management Accounting Conference, 18th to 20th June 2014, Colombo, Sri Lanka.

"Traditional Funding – Bread and Butter", Innovfest, Singapore, April 2014.

"Accounting Research : Relevance Lost, Relevance Regain?? – The Theory and Empirical Measurement of Conservatism", 4th Annual International Conference on Accounting and Finance, 28th and 29th April 2014, Phuket, Thailand.

"Accounting for Disclosure & Valuation – The Case of Olam", Institute of Valuers and Appraisers of Singapore Conference, April 2014, Singapore.

"Non-Executive Director Compensation and Corporate Risk Taking", Financial Management Association Conference, 12 – 15 June 2013, Luxembourg.

"Did Regulation Fair Disclosure Change the Rules of the Expectations Management Game?" International Academy of Business & Economics (IABE), 8 – 10 June 2012, Venice, Italy.

"Reinventing Management Accounting for the Turbulent Economic Landscape", Strategic Management Accounting and Business Analytics Forum Asia 2012, 10-11 July 2012, Singapore.